Did you know? Insects love your lawn almost as much as you do. Most homeowners misdiagnosis insect damage for drought or disease and if you do then they can really do a lot of damage that is expensive to repair. Other home owners may have drought or disease and they spend money on treating what they think is an insect issue.
Many insects and insect-like pest's damage lawns causing the grass to turn brown and die. Some pests infest the soil and attack the plant roots, some feed on the plants' leaves and stems, while others suck juice from the plants. Other insects and insect-like pests inhabit lawns, but do not damage them. Some of the pests are annoying but some of them can be a health concern like Deer Ticks that carry Lyme Disease.
An Essential Step: Diagnosis
If left unchecked, turf insects such as Chinch Bugs, Leather Jackets, Sod Webworms and Cutworms can cause considerable damage to your lawn. Damage usually begins in small, scattered patches, which may merge into large dead areas. Weed Man's Surface Insect Control begins with the identification of the insect causing damage to the lawn. Because some insects can only be controlled at certain times during their life cycles, Weed Man Lawn Care technicians are trained to identify the insect responsible for the damage, the specific life cycle of that insect and the exact level of infestation.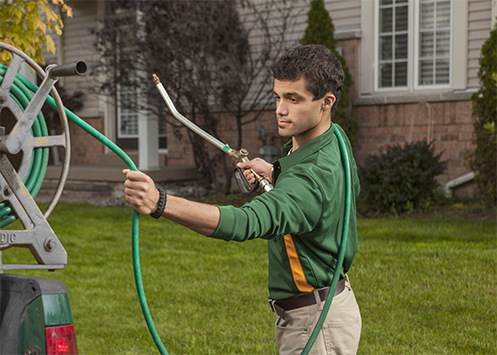 Weed Man Picton, ON's Surface Insect Control should begin once the early signs of injury are observed, or when significant numbers of insects are found on the lawn. Since some insects can only be controlled at certain times during their life cycles, it is essential to know:
1. The insect responsible for the damage;
2. The life cycle of that insect;
3. The level of infestation.
Weed Man Picton, ON employees are carefully trained to diagnose insect damage in your region. This knowledge is parlayed into a customized program that is applied only when and where needed by licensed, trained professionals, as part of Weed Man's IPM-based approach. Applications may be necessary when damage history is apparent and/or threshold infestations have threatened the overall health of the lawn.
Your Health & Safety Come First
Weed Man Picton, ON uses only approved products for use on home lawns applied at the right time and rates by your trained Weed Man technician. We will leave you any special instructions that may be necessary to help in making sure the treatment works as best as possible. We will also give you any specific instructions that may be related to when you can mow or go on the lawn after the application.
Have questions? Weed Man Picton, ON is here to help! Contact your local franchise for a free consultation. Weed Man will diagnose the problem and set up the proper program.